Oh Target. I have a love hate relationship with this place. I love everything I find in there but hate how it makes my wallet 50x lighter.
Target is a place where I can literally spend hours walking around (sad.. I know). The clothes, the shoes, the home decor, the dishes, and pots and pans (that I don't even need) somehow always find a way to draw me in. I need to start mentally preparing before I walk in there. I would say that about half of my closet comes from Target. You can always find trendy clothing for an affordable price. I also think that Target carries quality clothing and appliances.
Target has become a one-stop store because you can literally buy just about anything there. Groceries.. check. Toiletries.. check. Furniture.. check. Shoes.. check. Beauty products.. check. I think you get the point but it really is one of my favorite stores. If ever bored, I am perfectly content to take a stroll around targeé.
I thought I would share some of my favorite finds. The items range from clothing and accessories to bedding and home decor. Here they are:
Shirt | Sandals
I love this shirt! The straps tie at the shoulder so you can make it longer or shorter depending on what you prefer. I think that the tie up straps is such a cute style. This little shirt would be the perfect "go to" during the summer, especially for the 4th of July. These sandals go with literally just about anything. You can dress them up or dress them down. The shirt is only $14.99 (I couldn't find it online) and the sandals are $19.99.
2. This cute little shirt screams summer with the off the shoulder style + the vibrant yellow/gold color. I love the added buttons to the front which gives this shirt a casual but cute vibe. I am always attracted to this color of yellow so when I saw it I immediately knew that I loved it. These jeans… OMG! Since when did Target's jeans become so cute AND comfy? I am seriously all about comfort and these jeans do it for me. I love the frayed ends at the bottom and they have the perfect amount of rippage (yes, I just made up that word). The shirt is $17.99 and the jeans are $27.99.

3. Yes. Yes. Yes. I recently have started loving this burnt red color. From the front, this shirt is so simple, which I am all about, but on the sides, there are ties which makes this shirt more edgy. I have always leaned towards clothes that are more simple because to be honest, you can rewear it more often without people noticing (little helpful trick) and you can also pair it with more things. When I tried this on, I could just picture myself going out and wearing this to an outdoor concert or to get a bite to eat. The shirt is only $14.99, jeans are $27.99, and the sandals are $19.99.
4. I wasn't joking when I said these shoes go with anything. They are seriously SO cute! This tank top is plain and simple and easy to throw on. This shirt is very similar to the first shirt I tried on so I guess I was really feeling this pattern. This shirt is so easy to throw on and get out the door on a hot Saturday. Just pair it with your favorite jeans or shorts and some cute sunnies and you are ready. This shirt is only $8.00! What a steal. And again, jeans are $27.99 and shoes are $19.99.
5. When I saw this shirt I couldn't pass it up. I binge watched Gilmore Girls my freshmen year of college and made about 2 cups of coffee per show so this shirt was very fitting. I aspire to eat like Lorelai and Rory and still look like them🙃 This shirt was so soft and comfy… perfect with leggings. The back of the shirt is longer than the front so it covers the booty. The shirt is $12.99 and the jeans (I don't think you will ever forget the price by now) are $27.99.
6. Okay, this was HANDS DOWN my favorite piece that I tried on. You know when you try on something and love it so much you do a little silent dance in the dressing room. Yeah, that was me when I put this on. It is so simple yet SOOO cute and adorable on. I love the overall strap detailing and the tie around the waste. The tie draws it in and makes it more form fitting instead of it being so baggy. The undershirt is the Gilmore Girls shirt so it's even better. You could also pair this romper with a cami tank top or even a bandeau. The shoes I bought a few years ago but they are just simple black sandals. The romper is $24.99 and the under shirt is $12.99
7. I love this little clutch. I think the technical name for this style in the half moon but I like to call it the taco purse. The black and white color is so easy to pair with anything and everything! I love the pattern on it and think it's adorable. This little thing is priced at $14.99.
8. This cutie little watering-can can double as decor + its practical use of watering plants. When I saw this I immediately loved it! I think it would look so cute on a shelf to fill in an empty space. You could even put some faux lilac flowers or greenery in it to really spruce it up. Or leave it empty and use it as a watering-can and feel cute as you walk around your house watering your plants! 🙂 This watering-can comes from Joanna Gaines' Target line, Hearth & Hand and is $14.99.
9. This doormat also comes from the Hearth & Hand line. I thought the braided detail and fringe end was so dang cute! There's not too much to say about this other than it is ADORABLE!
10. BASKET GOALS. I have become basket obsessed recently. Having cute baskets like these around the house makes it so easy to hide any junk laying around. I put Bumper's dog toys in a basket that is similar to this one and it makes it look sooo much cuter. I also have my fiddle leaf fig tree sitting in one of these bad boys. Target carries similar ones in all different sizes. I highly recommend this one because it is so sturdy. This basket is priced at $24.29.
11. I am all about neutrals and light and airy colors mixed with tones of wood. I think that you could really dress this bedding up with some cute pillows along with wooden and metal accents. This bedding is originally $79.99 but is currently on sale for $71.99.
12. Lastly, I thought this little accent side table was so unique. I love the color of it and recently, I have been into round objects. I want a round rug, a round coffee table, and now a round side table. If you are trying to update your decor and want to do it cheaply, you could buy this little side table and it would immediately change the look and vibe of the room. I picture this little side table next to a comfy couch with a round jute rug on the floor (wow.. goals). This side table is priced at $69.99.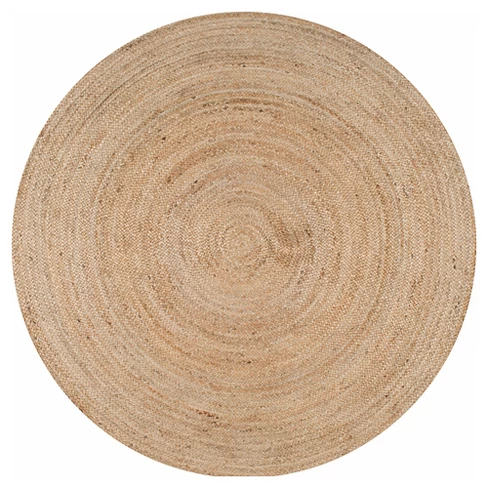 13. Jk, this is the last item. After discussing my dreams of a round jute rug I decided to see if Target carried any and sure enough, they did! I am really into the style of overlapping rugs and I can picture this rug on top of my current rug for a perfect look. Rugs in general tend to be pricey so I would definitely have to save up for this bad boy. This rug's price is $195.99. Don't tell Target but I am sure you could find it for cheaper somewhere else.
Done. That is it for my favorite Target finds! I could have added 20 more items but I thought I would spare you the 2 hour long post. I hope that you enjoyed all of the items that I had to share and I hope that you love them all as much as I do!
Thank you for sticking around! If you missed my last Favorite Finds, I picked out my current favorites at TJ Maxx. I will attach the link HERE.
Thank you so much for reading!